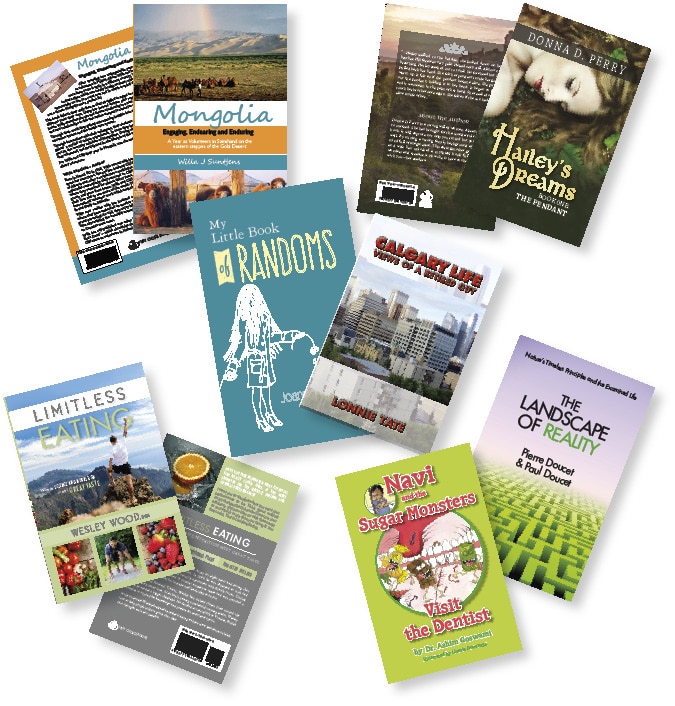 Judging a book by its cover
Despite the proverb, people really do judge a book by its cover. The cover is the first thing your reader sees, and gives the first impression of what your book is about and how interesting it will be to read.
First Choice Books can create a beautiful cover for your book that will attract readers and increase your sales. To get started, send us whatever you would like to appear on the cover in electronic file by email, and we'll put it together. We'll need:
1. Image High resolution photograph or illustration as a JPG or TIFF.
Don't have a photo or illustration? We can help you find one that's affordable and licensed for use for your book.

Not sure your photo is high resolution? Email it to us and we can check. For a 6″x9″ book, it should be around 2000×3000 pixels.

Need some Photoshop work done to change the size, clean up dust or fix something? We can do that.
2. Title The title, any subtitle or tagline, and the exact spelling of the author's and other contributors' names.
3. Text  Any text for the back cover (about the book, about the author, ~150 words each)
We'll construct a cover for your book size and page count, with a front, back, and spine, and add a barcode with your book's ISBN. We'll create print files and print a proof for you. Rates for design vary according to the complexity of design.
Simple cover design $80 (image and text on the front only, ISBN and barcode). Includes PDF proof of design.
Standard cover design $175 (front, back and spine, with 1-5 images and back cover text, ISBN and barcode). Includes PDF design samples, and PDF proof, 1 round of simple revisions.
Complex cover design: Please contact us for pricing estimates for complex work with multiple images or Photoshop work.
Doing your own cover design? Please read our Do-It-Yourself technical specifications (DIY Tech Specs) and use our spine-width calculator .
Simple Cover Design
1 image, title, plain background, ISBN barcode $80
Standard Cover Design
Up to 5 images, text, spine text, set of design samples to choose from, PDF proofs,  ISBN barcode  $175
Complex Cover Design
Multiple images, complex layout, custom Photoshop work.
Pricing estimated before work begins, at $80/hr.