Congratulations! You've written a book. Time to self-publish! Here's how to get started publishing with First Choice Books.

The steps to self-publishing your work, and making it look great in print:

1. Get a Free Quote for Self-Publishing Your Book
What's the best way to produce your book? What is your goal? First Choice Books offers competitive prices for printing, and as we print and bind in house, we can get your books produced swiftly and efficiently. Fill out our quote form for pricing for your project, and talk with our professionals about the best options for producing your book.
2.Talk with Us – toll-free 1 800 957 0561
Personalized service and experienced staff: reach us by email or phone directly any time during the week and get answers right away. We're a small company and do everything in house, so we answer our phones ourselves.
We can give you some great tips on how to make everything run smoothly, and sort out the best options for producing your book beautifully and affordably.
3. Get Graphic Design for Your Book that Attracts Readers
Looks matter! The cover will sell your book, and the insides should invite your readers into your story.
First Choice Books has a graphic design team ready to work with you and make your book look great and ready to sell.
Design costs: We charge $70/hr for design time. Cover design takes about 2 hours, and a novel with around 200 pages and 10 chapters takes about 6 hours to lay out and prepare for print. BOOK DESIGN
If you are doing your own design, you are welcome to send us PDFs that are ready to print. Please check our TECH SPECS, and download our free self-publishing guide.

4. Professionally Edit Your Book before Sending!
Edit! A good editor will get your book ready for your readers.
Content editor: digs into your book and helps you strengthen its structure and development.
Copy editor: focuses on grammar and punctuation.
Proof-reader: double checks the text for typos and spelling errors.
Looking for an editor? Check out this List of Editors.
Typography Edit: If First Choice Books does the layout and design of your book, we will do a basic typography edit, and fix common errors like double spaces and punctuation problems. We do not edit for content or structure, and final responsibility for the text remains with you, the author.

5. Doing Your Own Design? Download our Free Self-Publishing Guide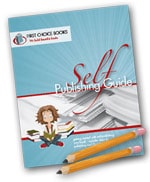 The Self  Publishing Guide
is filled with tips and techniques for doing your own book layout. In the guide you'll find:
How to make PDFs from Microsoft Word
Notes on Copyright and ISBN
What is Book Design?
Technical Specifications
How to set up Margins and Page Size in Microsoft Word
Frequently Asked Questions (FAQ)
6. Make It Official: Copyright, ISBN and Barcode
First Choice books will place a copyright notice in your book, which identifies you as the copyright holder. All rights to the book remain yours.
The ISBN and barcode are free with print orders. Read more about ISBNs and Copyright.
7. Double Check Your Proof
After the book and cover have been designed, the next step is to proof the book, and see what the covers and book insides look like in print. Time to find that last typo! If there are no revisions, then it's time to print!
The Proof: Proofs are printed on the same paper stocks as your final product, and trimmed to size, but not bound or laminated. Your first proof is included in the print costs; shipping not included.
Additional proofs are available for $30. Bound soft cover proofs are $60 each, bound hard cover proofs are $100 each.
Proof Approval: You must see a proof of the final version of the book before going to print, and sign the proof approval form that accompanies your proof. A proof takes 2-3 days to produce, once we have PDF files ready to print.
8. Have you considered a marketing plan?
A marketing plan may seem a bit dry but we suggest this is the best opportunity!  It just depends upon where your work as a writer fits into your lifestyle. Over 95% of authors are involved in promoting their own book. Some authors strategize to pre-sell enough books to cover the cost of printing.  Need assistance  – check into a publicist.  We suggest one with extensive experience .
9. Time to Print!
Once your proof is approved, we will schedule the printing and binding of your book's press run. Printing and binding usually takes about 2 weeks, depending on the season. If you have a specific date that you need the books for, please let us know, and we'll work to meet that deadline.
Shipping: Shipping costs are determined by the final weight of the books, number of boxes, the destination and method of shipping. For shipping quotes, please contact us.
10. Get the Word Out with a Website, Posters, Bookmarks and Cards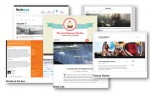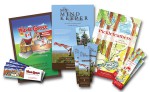 Get the word out! The strongest way to market your book is word of mouth and the internet. Consider starting a blog about your book even as you begin writing it, and in the run-up to having the books printed. First Choice Books can create bookmarks, posters, and business cards for your book. 
Showcase your book with a 5-page website, offering excerpts and links for readers to contact you and purchase the book. An optional blog feature means you're ready to jump in and start writing about your book and become the expert in your area of interest.