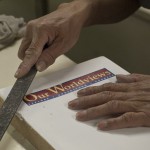 Bookbinding Parts, Cleaning and Tools
Bookbinding parts, cleaning and tools is discussed in this article.
If there is dirt in the book the first thing to do is to identify the problem(s) and tackle it from the inside of the book outward. Experiment with a throw away book  or buy one cheaply from a Thrift Store
Use un-printed newsprint or wax paper to avoid moisture penetration and sticky pages after gluing. Heavy  weights along with thick boards can be used to press the books and leave glue to dry for a certain period of time.
Book Parts:
Front and back cover
Inside front cover – attached end  paper
Spine –  Book back (bind edge) of book
Hinge – space between cover and spine case to allow cover to open
Fore-Edge – face or right edge of book
Book block – inside pages
End sheets – folded sheet normally of different paper or substrate attached by tip-in method to front and back of book block
Dust Jacket – a sheet of printed paper wrapped around outside  cover with an inside flap
Bookbinding Tools:
Pink Pearl eraser
Sand Paper
Wax Paper
Paring Knife
Cleaning Solvent
Rubber Cement
Book Press
PVA Glue
Cutting Knife
Rags
Transparent Tape
Brushes
Paste
Scissors
Ice Pick
Japanese Rice Paper
Book Cleaners
Ruler
Folding Bone
Book Cleaners:
Opaline dry cleaning pad
Delkote book clean
Quick dry non-harmful solvent
Pink pearl eraser
Shy Riyasat
Bookbinding Professional