Blog at First Choice Books
Welcome guests and guest authors to the blog at First Choice Books.  We look forward to your insights on self-publishing whether it be a discussion about your latest book project, or your most recent accolades as an author, or even your secrets to creative inspiration – messy desk or tidy, etc.?  Please share with us!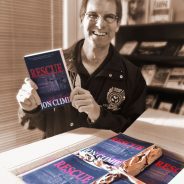 Jon Climie picking up his newly printed book, "Rescue". Self Published Authors Testimonial -Jon Climie and "Rescue" by First Choice Books – Our Authors Rock! In the authors own words: I recently completed a 470 page novel called 'RESCUE' that I had published by First Choice Books in Victoria, British Columbia, and wanted to comment on their exceptional service and the guidance they provided at every step of getting my novel printed. Like most other people on the journey of writing something, I eagerly...
read more